Run Lab | Crosspool Crawl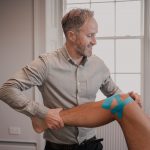 Jon Grayson
Run Lab | 1 Hour | 3 Ways To Stay Injury Free
The Physios team proudly sponsored (and took part in) the brilliant Crosspool Crawl charity run back in the summer. As part of a special prize draw one lucky runner won a free Rub Lab assessment with our specialist Jon Grayson. We were delighted to welcome Hannah in to our clinic before Christmas, to put her through her paces. Check out her experience below.
A simple assessment for the beginner runner.
Run Lab is aimed at the masses and not the elite. It includes firstly, running gait analysis. Secondly, conditioning for running. Thirdly, running plan prescriptions.
Typically, 65-80% of recreational runners get injured each year. Usually this involves 1 of the top 5 running injuries. Pain during running and pain after running are very common complaints for the beginner runner. Usually this comes down to simple faults in 1 or more of the 3 elements we look at during our 1 hour Run Lab assessment.
---
Run Lab | Form
Running form is the 1st component we assess in our Run Lab. Video analysis helps us to pick out any potential faults that can contribute to injuries as well as tweaking these to help improve performance. Nothing too complicated. Just doing the simple things well.
The image above shows us working on Hannah's cadence to help improve her efficiency when running. Read our previous blog here on the importance of cadence.
---
Run Lab | Condition
Condition includes assessing the mobility, stability and strength of a runner. Our 2nd component of Run Lab involves testing how flexible, controlled and strong you are. Fine tuning any stiff and weak areas is the key to helping avoid injuries during running and again improving performance when targeting the areas.
The images above show us testing out Hannah's squat mobility, single leg control and deep calf strength. These are a few of the key building blocks that get your body prepped for the regular impact of running.
---
Run Lab | Regime
Finally, our 3rd component of Run Lab involves making sure your weekly regime works for you. Whether it's simply keeping fit, training for an event, or like in Hannah's case, striving for a new PB, we help put together a tailored training programme that suits you.
Check out our blog on the 6 Golden 'R's', a guide to the simple weekly rules to follow in order to reduce injuries when running weekly. Plus our half marathon and marathon training programmes for beginners.
---
---
If you would like to book a Run Lab assessment, simply click here. Alternatively call 01142678181 or email [email protected]
---
**In order to attend Run Lab you will need to be able to run for approx 5 mins on a treadmill. Please bring appropriate clothing i.e. shorts/leggings/trainers**
Like our Facebook page to keep updated on useful tips to improve your running efficiency, and stay injury-free.
---
Remember…
Running is Evolving. Keep up with the pace!
View more articles from Jon Grayson